Welcome
Humans aren't the only ones who have been packing on the pounds in recent years. According to the Association for Pet Obesity Prevention, an estimated 54%, or 93 million of dogs and cats in the United States are overweight or obese. Cats alone had the highest obesity rates at 21.4%, while dogs were fairing slightly better with 8.6%. So that means around 6.7 million dogs and 20 million cats are obese.
Being obese means the animal is 20% or more heavier than their ideal body weight, and 5-19% for those that are overweight. When asked by their vets, 90% of dog owners and 54% of cat owners responded that they regularly gave their pets treats. But when their vets tell them their pet is overweight, only about 17% of owners agree.
Why is this happening? The main problem is pet owners who believe feeding their pet large quantities of food and numerous treats is showing their pet love. In reality, doing so is killing their pet, for just like us obesity in pets causes various health problems and shortens their lifespan. A majority of pet food producers aren't helping either, for they pack their products with byproducts, fillers, and non-digestible ingredients. They are even putting sugar into their treats!
So, you may be wondering what you can do to keep your pet at a healthy weight. Visit our Treatment and Prevention page to learn what you can do to keep your pet from becoming obese. Have a question? See if it's in our FAQ. And check out our Risks and Side Effects to see why it's important to keep your pet from getting overweight.
Pet Health Fair
The Girl Scout Gold Award Project Pet Health Fair was held on Saturday, July 30th, 2011 at the Mountain Home Church of Christ's pavilion. Visitors to the fair learned about pet nutrition, how to keep your pet healthy, and the importance of exercise for your pet. Pets were given the opportunity to experience walking on a treadmill. The treadmill was given away in a drawing at the end of the Pet Health Fair to one lucky pet owner.
Sponsers and Links
Special Thanks To
Advanced Auto Body (Ron Hayden)
Baxter County Animal Clinic
Mountain Home Church of Christ
Slone Pet Clinic
Town & Country Discount Foods
Helen Tagleur
KTLO Radio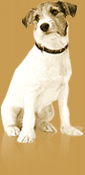 Risks & Side Effects
Just like us, our pets can develop various health problems from being obese. Here are just a few medical conditions and diseases commonly seen in overweight pets...
Treatment & Prevention
Just like with weight loss in humans, it can be very difficult for Fido or Taffy to shed those extra pounds. But their success doesn't depend only on what they do, but also what their owner does. Only you, the owner, can make the right choices to ensure your pet stays happy and healthy.
FAQ
Is 60% Real Chicken Good? If my pet's food has a higher cost, that means it has higher quality ingredients, right?